We currently have no vacancies until Oct. 1. For more information or to arrange a viewing of the marina, please
contact us
.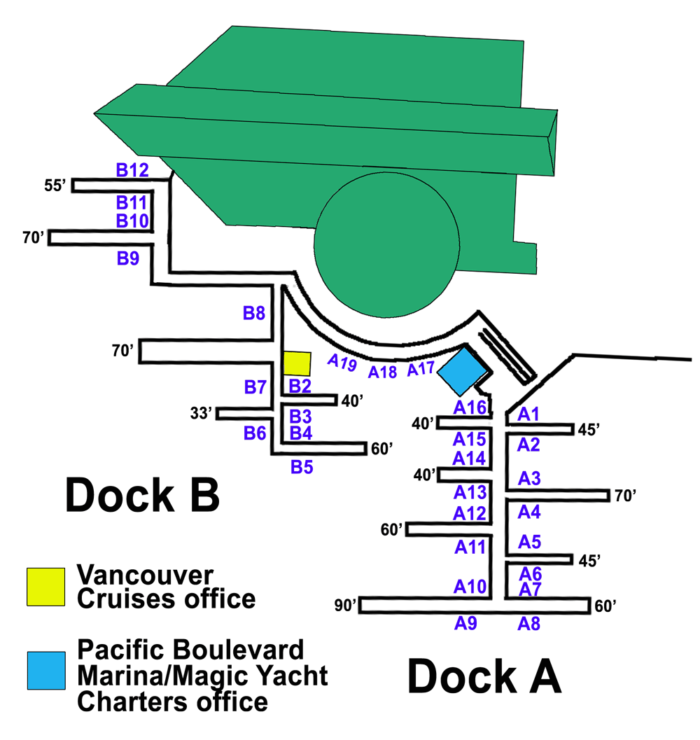 Slip No.
Dock length
Annual rate
per ft/mo.
Short term and
summer rate
per ft/mo.
Comments
No vacancies
Rates include either 30A or 50A electrical and water hook-up.
Moorage cost is calculated based on the greater of the slip length or overall vessel length.
Surcharges apply to wide vessels that occupy more than 50% of the space between dock fingers.
Summer month period: April 16 to September 30.
Security deposit required for moorage durations greater than one month.
Moorage fees due for the term must be paid in full prior to the beginning of the term. An installment payment plan is available, subject to Marina approval.
Proof of Ownership/License/Registration required.
Proof of valid insurance required.
Liveaboards not permitted.
Access to the marina is through locked gates. The marina is monitored by security cameras and also patrolled by security guards during the evening hours.
Pacific Boulevard Marina reserves the right to refuse moorage for poorly-maintained vessels.
Transient and Temporary Moorage
We offer transient moorage based on boat length at $1/ft for up to 2 hours. Moorage over 2 hours is $2.25/ft per 24 hour stay. As temporary moorage is only offered on an as-available basis, we cannot accept bookings greater than one week prior to the desired moorage date.  Weekend bookings must be made during regular office hours Mon-Fri and full payment must be made in advance of the moorage date.