Ample parking is available around the marina. The closest parking to the marina is Impark Lot 1188, the surface parking lot at the Plaza of Nations. The entrance to the parking lot is on Pacific Boulevard just off the exit ramp from the Cambie Street bridge.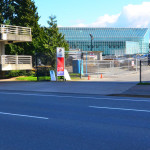 Current parking rates on non-special event days are $3/hr, max. $12/day until 6:00pm. 24 hour parking is also available at a cost of $30/24 hours, maximum 3 days*. The parking meters in the lot only accept credit cards. Please do not park in the underground parkade as this is for use exclusively for Edgewater Casino customers. Hourly meter parking is also available at the front of the Plaza of Nations complex and along Pacific Boulevard, and several other paid parking lots are located around Rogers Arena. Please refer to the map below for the location of entrances to the parking areas.
*Parking rates are subject to change without notice.